Portal:Star Trek
Discuss

8
37,582pages on
this wiki
Featured production article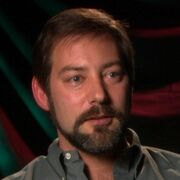 Guy Vardaman is a stand-in performer who often appeared in the role of Darien Wallace on Star Trek: The Next Generation. He also served as photo double for Data during the majority of the show's run, from the first season's "The Big Goodbye" through the final episode, as well as for Star Trek Generations. Additionally, he was a Research Consultant for the show's creator, Gene Roddenberry.
Hailing from Glendale, California, Vardaman spent a good part of his life in San Jose. He grew up watching Star Trek: The Original Series, becoming a huge fan of the series. He never dreamed that he would become a part of the Star Trek universe himself.
To support himself while he was in school, Vardaman joined the Screen Extras Guild to acquire a part-time job. Less than two weeks later, while signing up with casting, he was spotted and approached for a job on
Star Trek: The Next Generation
. As it turns out, the man originally approached for the job was unavailable, prompting the need for a replacement. Despite some initial reluctance from the wardrobe department, Vardaman was fitted with an operations yellow Starfleet uniform and reported for work the following day.
Did You Know that following a large earthquake in Los Angeles, Armin Shimerman did not have time to remove his Ferengi makeup when he rushed to go home to check on his family and the makeup "scared the living shit out of people"?
People

Onscreen

Unused production material

Planets and systems
Ships