Portal:Star Trek
Discuss

8
38,260pages on
this wiki
Featured production article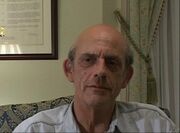 Christopher Lloyd played the role of Klingon Commander Kruge in the 1984 film Star Trek III: The Search for Spock. He is perhaps best recognized for his roles on the television series Taxi and the successful Back to the Future films.
Born in Stamford, Connecticut, Lloyd attended the prestigious Fessenden School in Massachusetts and later Staples High School in Connecticut, graduating from the latter in 1957. Since embarking on a career in acting, he has appeared in over a hundred film and television projects as well as over 200 stage productions, and has become a highly recognized figure in show business.
Lloyd first rose to fame as Reverend Jim Ignatowski on the ABC (and later NBC) television comedy
Taxi
. Lloyd won two Emmy Awards for his role as the lovable, burnt-out Ignatowski, one in 1982 and another in 1983. Coincidentally (as revealed in the episode "Jim Joins the Network"), Lloyd's character was a huge fan of
Star Trek
who resented NBC's decision to cancel the show. However, one of the character's qualms about the series was the male Romulan commander (in "Balance of Terror"), whom he believed "did things no Romulan would ever do."
Did You Know that the Star Trek Generations quote "time is the fire in which we burn" actually came from Gene Roddenberry, who borrowed it from the poem "Calmly We Walk Through This April Day," written in 1937 by Delmore Schwartz? They were given to the movie's villain, Tolian Soran, played by Malcolm McDowell, who liked the quote so much that he had it engraved into a pocket watch.
People

Onscreen

Unused production material

Planets and systems
Ships